The Microsoft 365 monthly update includes updates and recently recent features across all of Microsoft 365. Press a button to read about an individual technology or continue reading for more. You can take a look back at previous monthly updates here, plus take a look at our weekly roadmap roundup.
---
SharePoint
In SharePoint: OneDrive settings in SharePoint admin center, 250GB uploads, Lists iOS app, List rules, List form customisation
OneDrive settings move to the SharePoint admin center
All OneDrive admin capabilities, including controls for sharing, access, sync, and storage, are now available from within the SharePoint admin center, consolidating admin tools in one place.
Find out more:
File upload limit increases to 250GB
Microsoft have increased the upload file size limit for Microsoft 365 from 100 GB to 250 GB – which includes uploads of files into SharePoint, Teams, and OneDrive.
Find out more:
Microsoft Lists app for iOS
Microsoft Lists helps you track information and organize work. List is simple, smart, and flexible, so you can stay on top of what matters most to your team and will now be available on your iPhone and soon your iPad.
Find out more:
Microsoft Lists: Rules
Create simple if/then rules, based on changes to list information, to set reminders and send notifications. Users with edit permissions on the list can create and manage rules. Users with read-only permissions can't create or manage rules.
Find out more:
List form customisation: footer, header & body text with JSON
You can configure the list form in a list or library with a custom header, footer, and the form body with one or more sections with fields in each of those sections. The form configuration does not change the data in the list item or file; it only changes how the form is displayed to users who browse the list or library.
Anyone who can create and manage views in a list can use form configuration to configure the form with header, footer, and body with sections.
Find out more:
---
Teams
In Teams: Approvals, Yammer notifications, task publishing, offline autosend, 10K org-wide team members, Meeting chat moderation, shared calendars, Teams UI Design Kit & Library, Education policy wizard
Approvals in Teams
Approvals in Microsoft Teams enables everyone, from frontline workers to corporate headquarters employees, to easily create, manage, and share approvals directly from your hub for teamwork. You can quickly start an approval flow from the same place you send a chat, in a channel conversation, or from the Approvals app itself.
Find out more:
Offline autosend
The offline experience for Microsoft Teams chat and channels helps you to continue be productive even without a network connection. Offline autosend identifies when Teams messages are sent or edited while the user is offline. These messages are automatically sent once the device is back online.
Find out more:
Up to 10,000 users in an org-wide team
Administrators who manage tenants that have less than or equal to 10,000 members can now create an org-wide team, which automatically syncs all the tenant's members with the team.
Find out more:
Meeting chat moderation settings
Meeting organizers can now choose from three chat settings to help create a safe and inclusive meeting environment.
Chats can be "Disabled", preventing the organizer and participants from using the meeting chat. Alternatively, they can be set to "Only during the meeting", allowing participants to send messages only during the meeting and the organizer to send messages at any time. Lastly, the default will be set to "Enabled", allowing chats for all meeting attendees at any time.
Find out more:
Add a shared calendar to a channel in Teams
You can now create and share a calendar with members of a specific channel. When a channel meeting is created, Teams automatically creates a new post in the channel's activity feed. If users don't have notifications turned on, they will see the event when they open the channel's calendar. Once a channel event is posted, you can add it to your personal calendar.
Find out more:
Yammer community notifications in the Microsoft Teams Activity feed
Microsoft released the Communities app for Microsoft Teams in 2020, bringing all your Yammer communities and conversations into Teams. Now you will receive Yammer notifications in the Teams Activity feed on web, desktop, and mobile.
You can then like, read, respond to the post, and react with our new inclusive reactions – without leaving Teams.
Find out more:
Task publishing in Teams
Task publishing is now generally available. Your leadership can create tasks centrally at the corporate level and publish them to targeted frontline locations like stores, clinics, or factories. Tasks can be assigned to all frontline teams or specific locations based on customizable publishing characteristics like size or layout.
Find out more:
New Teams UI Design Kit and UI Library
The new Microsoft Teams UI Kit and Microsoft Teams UI Library helps designers, product managers or developers quickly understand the key design considerations for making quality Teams apps and also simplify the process by providing templates and tools to use.
Find out more:
Teams Education policy wizard
With the new Microsoft Teams for Education policy wizard, you can easily apply education tailored policies for a safe learning environment. The policy wizard allows you as an IT admin to quickly and easily apply the most relevant set of policies for students at a global (Org-wide default) level and apply a custom policy set to a group of educators and staff tailored to their needs.
Find out more:
Teams (Government)
The following features have been rolled out this month to customers in US Government Community Cloud (GCC), US Government Community Cloud High (GCC-High), and/or United States Department of Defense (DoD):
Together mode: Together mode reimagines meeting experiences to help participants feel closer together even when you are apart. Find out more.
Multi-Window Chat: You can now pop out individual Teams chat conversations into a separate window. Find out more.
Multi-Window for Meetings and Calling: Users will have the ability to pop out meetings and calling into separate windows to help them optimize their workflow. Find out more.
Meeting recordings saved to OneDrive and SharePoint: You can now save Microsoft Teams meeting recordings to OneDrive and SharePoint.
Simplified way to manage your channel notification settings: Through the teams and channels list or from the channel header, the users can quickly manage their channel notification settings by the means of a new fly-out design.
Targeted communications: Targeted communication allows team members to message everyone in a specific role at the same time by @mentioning the role name in a post by using tags. Find out more.
---
OneDrive
In OneDrive: Full fidelity shared libraries, create shared libraries, exclude specific files from sync
Full fidelity shared libraries in OneDrive web
Not only can you sync these shared libraries from SharePoint and Microsoft Teams to your PC or Mac using OneDrive, you can now view shared libraries with full fidelity from within the OneDrive on the web. This means you can create new documents, pin important ones to the top, add shortcuts to your OneDrive, create views, manage metadata, share and more.
Find out more:
Create shared library in OneDrive web
It's now easier and simpler to create new shared libraries from OneDrive on the web. The new streamlined experience backed by an Office 365 group, allowing you to specify the people you want to share with – and the new shared library appears immediately as a new content collaboration space for your team files.
Find out more:
Exclude specific files from sync
OneDrive admins can now specify a file name or file extension you'd like to exclude from the OneDrive sync at the device level. This setting lets you prevent the OneDrive sync app (OneDrive.exe) from uploading specific files to OneDrive or SharePoint. No errors appear for the skipped files, and the files remain in the local OneDrive folder.
So now as a part of "Known Folder Move" if you need to move a Desktop folder which might consist multiple shortcut files, just add .lnk files to the list of the excluded files and prevent them from syncing. End users will be notified about the exclusion in the activity center and will be able to recognize these files with "do not enter" status in the File Explorer.
NOTE: You can find the new setting in the admx/adml files that ship with OneDrive version 20.201.
Find out more:
---
Power Apps
In Power Apps: Intelligence in relevance search, Geospatial features GA, source code files, Innovation Backlog, model-driven apps push notifications, Monitor GA, share Dataverse for Teams apps more broadly, simple image control, new model-driven app controls
Intelligence in relevance search
Relevance search is becoming more intelligent through the infusion of machine learning. Moving forward, relevance search results will improve over time, thus making it easier to find the data you're looking for.
Some of the new capabilties include:
Spelling check
Recognizing common abbreviations and acronyms
Better understanding through common knowledge & synonyms
Find out more:
General Availability of Geospatial Features in Power Apps
The Power Apps team have announce the general availability of geospatial features in Power Apps, which include both the Address Input and the Interactive Map Component. Geospatial features empower app makers to introduce location-based capabilities into their apps to visualize and update geospatial data using tools they are already familiar with.
Find out more:
Source code files for Canvas apps
The Power Apps team have announced the experimental release of source code files for Canvas apps. Source code of a Canvas app to be effectively managed in GitHub or Azure DevOps. Diffs, pull requests, and comments can be based on lines of formula text rather than .msapp blob files.
Find out more:
Innovation Backlog
Innovation Backlog is a new app that's part of the Center of Excellence (CoE) Starter Kit that gives your business users a place to record and prioritize their wish list of digital innovations. Your teams can use this app to submit ideas for apps and flows and describe pain points with the current process.
Find out more:
Model-driven app push notifications
You can now send push notifications to model-driven apps using Power Automate! With the updated Power Apps Notifications connector, you can direct users straight to a specified page or section of your app – like the relevant entity view or form.
Find out more:
Monitor in Power Apps now generally available
Monitor enables Power Apps makers to start viewing a stream of events from a user's session to diagnose and troubleshoot app behaviour during development in Power Apps or to monitor published apps during runtime.
Now generally available (GA), the Power Apps team have introduced a new collaborative troubleshooting capability "Connect User" in Monitor to better facilitate team collaboration and troubleshooting.
Find out more:
Broad distribution apps within Dataverse for Teams
Previously, apps built on Dataverse for Teams could only be used by other members within a team. The Power Apps team are introducing broad distribution apps within Dataverse for Teams which allows you to take an app that was built within a Teams team and share it with others inside of your company.
This makes it possible for a centralized development team to build an app on top of Dataverse for Teams and then share it with a bunch of users who don't belong to the original development team.
Find out more:
Simple Image control for model-driven apps
The simple image control for model-driven apps consists of a file picker button, thumbnail along with open and delete buttons. The open button will retrieve the full photo in a new browser tab. This experience simplifies the UI for users and saves additional overhead for displaying the larger images within the form.
Also included as part of the simple image control is the preview for our image annotation control, which allows for images to be added to a form and then the ability for them to be marked up with any additional information.
Find out more:
New Toggle & Calendar model-driven apps controls + deprecation of old controls
Two new controls are coming to model-driven apps in Power Apps, plus some older controls are being depreciated. Firstly, the new Toggle control will replace the current Flip Switch control, with many of the properties being the same as the Flip Switch, except for additional support for nulls "—".
The new Calendar control V2 brings a much needed refresh to UCI vs the existing calendar (Calendar Control V1). The new calendar control is also accessible, mobile and allows for items to be created directly from the control.
As well as the depreciation of the Flip Switch and Calendar Control (V1), the Power Apps team will also be deprecating some gauge controls, Linear Slider, Radio Knob, Arc Knob, Linear Gauge; along with the Website Preview control and the MultiSelectPicklistControl (v1).
Find out more:
---
Power Automate
In Power Automate: Desktop update Jan 21, in-product help, 11 new connectors, import from GitHub
Power Automate Desktop January 2021 update
The January 2021 Power Automate Desktop update has been released with several new features and updates added, including:
Variable value viewers available in the flow designer
Connection strings can now be built via Data Link Properties in SQL actions
Several performance improvements in Power Automate Desktop
Internet Explorer automation does not require disabling Protected Mode
Find out more:
In product help for Power Automate
The Power Automate team have announced the availability of a new Power Virtual Agents-based chatbot and contextual help while building flows. A new set of documents by curating customer support asks and community asks to help you learn how to automate with top connectors in Power Automate has been launched that are accessible whilst building flows.
The team have also launched an assistant for Power Automate to aid in authoring workflows in the form of a Power Virtual Agent bot (PVA bot) that provides the next level of assistance for customers in a question/answer interaction format. 
Find out more:
11 new connectors for Power Automate
December 2020 saw the addition of 11 new connectors in Power Automatem including:
Find out more:
Import a connector from GitHub as a custom connector
The Power Automate team have announced you can now import a connector from GitHub from the Power Platform connectors repository and deploy the connector as a custom connector all from the Custom connectors page.
Find out more:
---
Power BI
In Power BI: Power BI Report Server Feature Summary, reports in Teams tabs, reports from SharePoint lists, deployment pipelines API, Power BI in Jupyter notebooks, on-premises data gateway, add/ edit data sources, May feature summary, small multiples, template apps one-click update, new sharing exp, backup/ restore support, goals,
Power BI Report Server May 2021 Feature Summary
This month's new version of Power BI Report Server is out now with lots of new enhancements, including a new field list, new and improved shape options, and several visual formatting features.
Find out more: Power BI Report Server May 2021 Feature Summary
Power BI reports in Microsoft Teams tabs
The Power BI team are making it easier to find Power BI tabs you've used in Team channels. An update to the home experience in the Power BI app for Microsoft Teams will allow users to see a new "In Teams" pivot on Power BI home.
Find out more: View all the Power BI tabs you use in Microsoft Teams
Quickly create reports from SharePoint lists
The Power BI team have announced integration within SharePoint lists. This experience empowers SharePoint list and Microsoft List users to easily explore their list data with just a few clicks. 
Find out more: Quickly create reports from SharePoint lists
Deployment pipelines API
The deployment pipelines tool helps BI teams release content in a fast pace and with higher quality. The Power BI team are releasing a new set of REST APIs that allow developers to automate the deployment of content within an existing deployment pipeline. This includes all the types of deployment that exists today, including selective deployment and deploying all the content in a workspace.
Find out more: Deployment pipelines – automation and Azure DevOps/GitHub integration
Power BI in Jupyter notebooks
You can now tell compelling data stories with Power BI in Jupyter notebooks. Get your Power BI analytics in a Jupyter notebook with the new powerbiclient Python package.
The new package lets you embed Power BI reports in Jupyter notebooks easily. You'll be able to export data from visuals in a Power BI report to the Jupyter notebook for in-depth data exploration. You can also filter the report for quick analysis or use bookmarks to apply a saved view.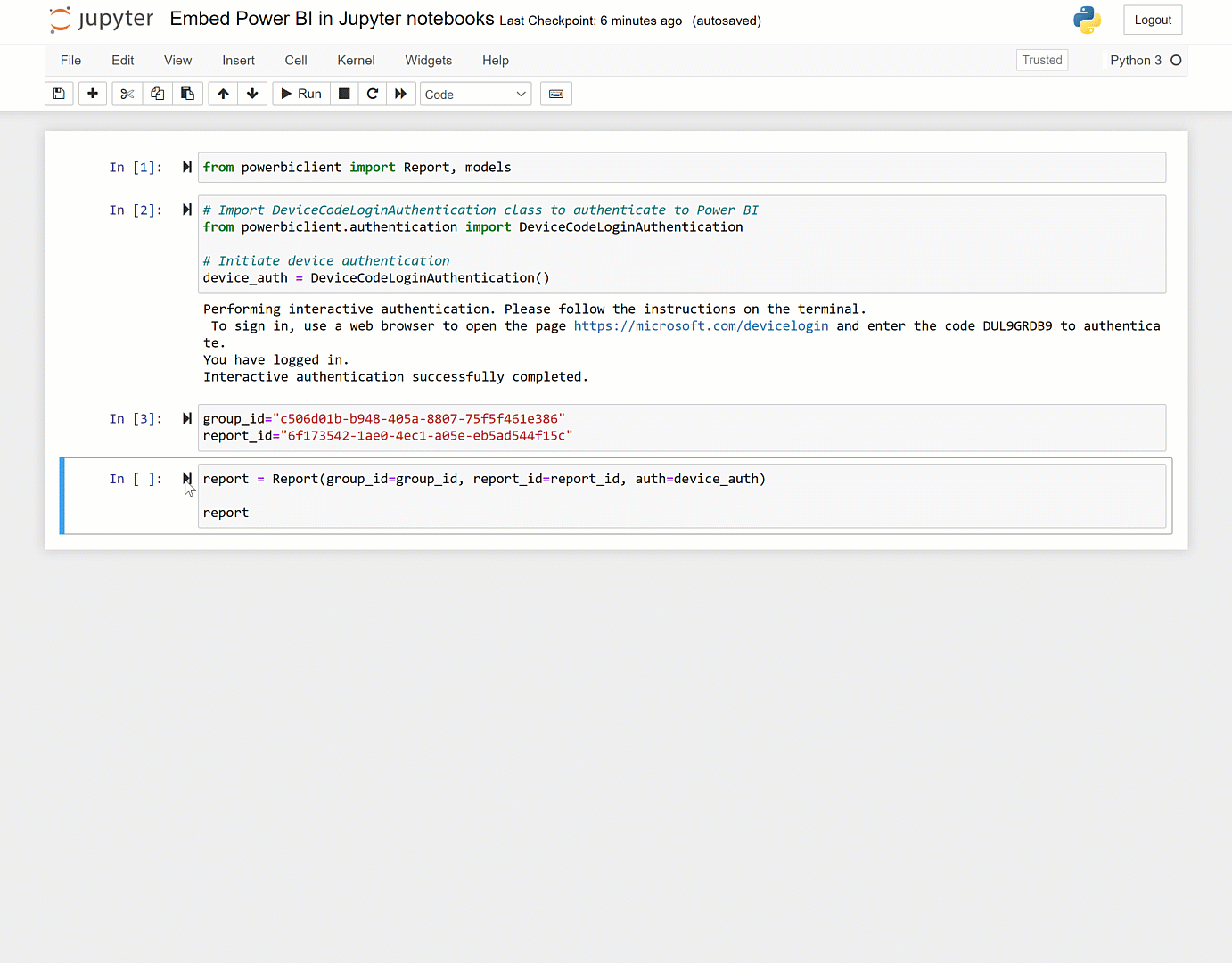 Find out more: Announcing Power BI in Jupyter notebooks
On-premises data gateway May 2021 update is now available
The Power BI team have announced that we have just released the May update for the On-premises data gateway (version 3000.82.6).
Find out more: On-premises data gateway May 2021 update is now available
Add and Edit Power BI data sources on Power Platform Admin Center
The Power BI team have announced two enhancements to gateway management operations on Power Platform Admin center. We have added the new features listed below:
Edit data source
Add data source
Find out more: Add and Edit Power BI data sources on Power Platform Admin Center
Power BI May 2021 Feature Summary
This months Power BI feature summary is out now including a ton of updates for reporting, analytics, modeling and more!
Find out more: Power BI May 2021 Feature Summary
Small Multiples (Preview) – Roadmap Updates
The small multiples preview feature has been turned on by default in Power BI Desktop. The updated version of small multiples includes many updates since the feature was first released in preview back in December 2020.
Find out more: Small Multiples (Preview) – Roadmap Updates
Announcing template apps one-click update
Template apps are marketplace offers which provide Power BI Pro or Premium users with out-of-the-box reports for common data sources. Now, when you install a template app update, you can choose to update the organizational app as well, enabling you to update the app, navigate to it directly, and continue your work!
Find out more: Announcing template apps one-click update
New sharing experience
The Power BI team have announced a new sharing experience that allows sharing reports via links. Previously in the old experience, we supported sharing reports by granting direct access. For the new experience, reports can be shared via links in addition to direct access sharing.
Find out more: Announcing the new sharing experience
Support for backup and restore of Power BI datasets
Now in public preview, Backup and Restore for datasets in Power BI Premium and Premium per User (PPU) lets you use SQL Server Management Studio (SSMS), Analysis Services cmdlets for PowerShell, and other tools to perform backup and restore operations in Power BI via XMLA endpoints in much the same way as you would for tabular models in Azure Analysis Services (Azure AS).
Find out more: Backup and restore datasets with Power BI Premium (preview)
Query Plan Visual for Power Query Online
Now in public preview, Query Plan visual will allow you to understand what's happening under the hood of your query with more details than the Step Folding indicator. While Step Folding indicators provide a "check engine light" for every Power Query user, the new Query Plan provides a much more detailed view for advanced users. Similar to how SQL Server's "" capability can let you see the optimized form of the Query Plan in Power Query Online will let you see how the Mashup Engine will process your query.
Find out more: Query Plan Visual for Power Query Online
Goals in Power BI
Now in public preview, Goals in Power BI Premium is a data-driven, collaborative, and adaptable way to measure key business metrics and goals built directly on top of Power BI. Goals enables teams to easily curate business metrics that matter most and aggregate them in a unified view.
Find out more: Introducing Goals in Power BI
Paginated Reports Feature Summary January 2021
Several exciting updates are rolling out this month for paginated reports,  including  an improved publishing experience in Power BI Report Builder, additional sample reports, Microsoft Dataverse connectivity and much more! 
Find out more:
Power BI Report Server January 2021 Feature Summary
Several new features are included in the January 2021 update to Power BI Report Server, including: visual zoom sliders, custom publish message and ArcGIS for Power BI support, plus more.
Find out more:
Step Folding Indicators for Power Query Online
The Power BI team have announced they are now previewing step folding indicators in Power Query Online. These indicators will allow you to understand which steps fold, and which steps don't. When you make a change that breaks folding, it will become obvious.
This allows you to resolve issues more quickly and easily, avoid performance issues in the first place, and have better insight into your queries.
Find out more:
General availability of read/write XMLA endpoints in Power BI Premium
Power BI inherits a large ecosystem of developers, partners, BI tools, and solutions built over the years. XMLA endpoints provide access to the Analysis Services engine in the Power BI service, allowing customers to leverage enterprise BI tools directly on Power BI datasets.  
Read/write XMLA endpoints introduced many additional enterprise BI scenarios for dataset management, application lifecycle management, governance, complex semantic modeling, debugging, and monitoring— all within Power BI!
Find out more:
---