In this month's update we take an in-depth look at all the recently released features for all the products within Microsoft 365.
SharePoint – SharePoint Syntex, organization chart web part, admin controls for Lists, Lists – commenting
Teams – Tasks in Teams, New file sharing experience, live captions, spotlight, prevent unmuting, advanced production for meetings, read-only Whiteboard, recordings in SharePoint, download participant report, incoming IP video policy, appear offline, language-aware proofing, Teams templates, SharePoint pages app, global notification settings, Off-shift access controls
Teams (Education) – Anonymous grading & marking, view all class assignments
Teams (Government) – Priority,notifications, read receipts, file viewer upgrades, together mode, large gallery view, meeting notes improvements
Power Apps – Offline apps, custom API preview, portals ID provider GA, relevance search API, app usage analytics in ISV studio
Power Automate – Desktop update, RPA playbook for SAP, AI Builder capabilities GA, nine new connectors, action analytics, DLP capabilities GA
Power BI – Certified & promoted reports, Azure Databricks connector, report server feature summary, enhanced compute engine, publish to web, 'new look' Power BI service, personalize visuals GA, October 2020 desktop feature summary, on-premises data gateway
Related – OneDrive widget for iPhone, Productivity score, Forms from the Office mobile app
SharePoint
SharePoint Syntex
Now rolling out worldwide, SharePoint Syntex amplifies human expertise, automates content processing, and transforms content into knowledge. Syntex mainstreams machine teaching, enabling your experts to capture their knowledge about content in AI models they can build with no code.
Find out more:
Organization Chart web part
This web part allows page authors to generate an organization chart based off of a specific individual – just by typing their name. The page author will have the option to determine how many levels up this org chart goes, and as you navigate, you'll see who reports to who.
Find out more:
Control settings for Microsoft Lists
Some new PowerShell based admin capabilities are being added to Microsoft Lists, including:
Control the creation of personal lists – a disable control, and;
Manage the built-in, ready-made templates – so that only the ones you wish to be available to your people will appear
Find out more:
Microsoft Lists – commenting
You will soon be able to add and delete comments on list items. Users can view all comments on a list item and filter between views that show comments or activity related to an item.
Information on how and where comments are stored:
Comments follow the permission settings inherent in SharePoint and Microsoft Lists
Users with read-only permission can only view comments. Those with list edit permission can make comments as well as delete comments; editing comments is currently not possible
Comments are stored in the schema for each list, which is based on the SharePoint storage platform
If you are using a classic list template, it will not have this commenting feature
Commenting on lists in Teams is not yet available; currently leverage Teams chat for lists in Teams
Comments are not indexed by Microsoft Search
Find out more:
---
Teams
Tasks in Teams
Tasks in Microsoft Teams lets you manage your team tasks from Planner and individual tasks from To Do in your hub for teamwork. Tasks in Teams is now generally available for all non-government tenants.
Find out more:
New file sharing experience in Teams
You can now create a shareable link for any file stored in Teams and directly set the appropriate permissions. Additionally, you can also set permissions for files stored in SharePoint or OneDrive while composing a private chat or starting a channel conversation.
Find out more:
Live Captions with speaker attribution
Microsoft Teams added speaker attribution to live captions so that you can see who is speaking along with what's being said, making meetings more inclusive and easier to follow along.
Find out more:
Spotlight an individual video
Presenters can now pin an individual video feed for all attendees to see during a Teams meeting. Once pinned, the individual identified as the spotlight will be the main video shown to all participants.
Find out more:
Prevent attendees from unmuting
Meeting organizers and presenters can now prevent attendees from unmuting during the meeting and enable specific attendees to unmute when they raise their hands.
Find out more:
Advanced Production for Teams Meetings
Transform your Teams Meeting into a virtual stage with a new advanced production option for broadcasts. Network Device Interface (NDI) support for Teams allows event producers to convert each participant's video into a discrete video source that can be used in the video streaming production tool of your choice.
This functionality enables you to use Teams meetings in new ways, including bringing speakers into Together Mode or customized views, to deliver professional broadcasts to the end point of your choice and reach audiences wherever they are.
Find out more:
Microsoft Whiteboard read-only mode
Microsoft Whiteboard read-only mode is available in Teams allowing for more flexibility for you to either present the digital whiteboard in read-only mode, or to allow others to edit and collaborate when given access.
Find out more:
Meeting & Calling recordings stored in OneDrive and SharePoint
Teams meeting and call recordings can now be stored in your OneDrive for Business or in SharePoint, providing the ability to share recordings with guests or external users, access meeting recordings faster, and manage recordings with security and compliance controls available to other file types in Microsoft 365.
Teams Admins can select their recording storage location by updating policies using PowerShell.
Find out more:
Enhancements for downloading participant reports in Teams meetings
Now you can easily download a participant report after the meeting within the meeting chat. Microsoft have also added new data into the report that allows you to better manage your attendance.
Find out more:
Changes in Incoming IP Video policy (New Audio and Video Policies)
Microsoft have extended the Allow IP Video policy to prevent both outgoing and incoming video as needed. Tenant administrators can use this policy to manage bandwidth. Current policy can only be set to prevent outgoing video.
Find out more:
Appear Offline status
You can now change your presence to "Appear Offline". This allows you to have full access to Teams while signalling to colleagues that you are unavailable.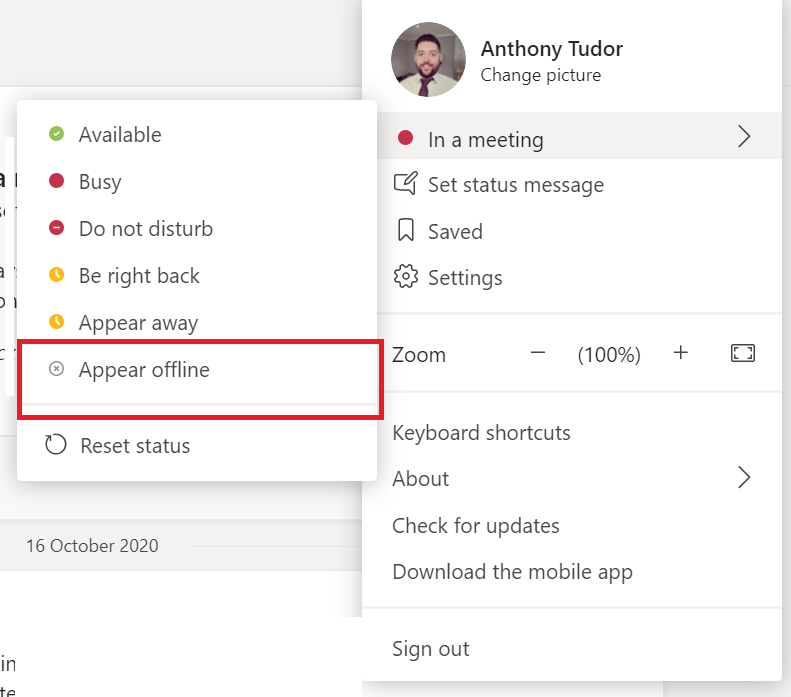 Find out more:
Language-aware proofing
If you write different messages in different languages, you now see spellchecking relevant to the language you use when typing a message in the Teams desktop app.
Find out more:
Teams templates
When creating a new team, you can now choose from a variety of customizable templates including event management, crisis response, as well as industry-specific templates like hospital ward and bank branch.
Find out more:
Updated SharePoint pages app in Teams
The updated SharePoint pages app in Teams lets you add published SharePoint pages or lists as a tab in a Teams channel. SharePoint pages let you share ideas using images, video, links, and documents.
Find out more:
Simplified global notification settings
You can now change your notification settings through an updated notification settings section. To access, go to your profile picture > Settings > Notifications.
Find out more:
Off-shift access controls
Off-shift access controls allows IT admins the ability to configure Teams to alert you when you are accessing the app on your personal device outside of working hours.
The feature does not require active usage of the Shifts app, but it does require Shifts being configured and schedule data being inside the app; either added natively with Excel import or including workforce management API connectors.
Find out more:
Teams (Education)
Anonymous grading and marking in Assignments
Anonymous grading, when enabled in the assignment detail view removes students' names and avatars are temporarily removed, presenting a random list of students. This allows you as an educator to review work with identities hidden, no shuffling of paper involved.
Find out more:
View assignments across all classes
Now both educators and students can once again view upcoming and turned in assignments by class or view them across all classes. Just visit Assignments in your app bar on the left-hand side of Teams to view assignments across all classes.
Find out more:
Teams (Government)
These features currently rolling out to customers in US Government Community Cloud (GCC), US Government Community Cloud High (GCC-High), and/or United States Department of Defense (DoD).
Priority notifications (GCC, GCC High, and DoD)
Priority notifications alert a recipient of an urgent message on their mobile and desktop devices until a response is received, every two minutes for up to 20 minutes. IT admins can manage this feature as part of messaging policies in Teams.
Find out more:
Read receipts (GCC, GCC High and DoD)
Read receipts in private chats allow senders to know that a message was read by the recipients. IT admins can configure messaging policies from the Microsoft Teams admin center to enable or disable this feature for users.
Find out more:
File viewer upgrades (GCC, GCC High and DoD)
Teams file viewer is being upgraded for Gov clouds from legacy to OneUp for non-Office file types and to unified app for Office file types (Word, PowerPoint, and Excel.
Find out more:
Together mode (GCC)
Together mode, now available in GCC, uses AI segmentation technology in meetings to digitally place participants in a shared background, making it feel like you're sitting in the same room with everyone else.
Find out more:
Large Gallery view (Preview) – see up to 49 participants
Now available in GCC, Large Gallery view provides a new way to view video up to 49 participants at once on a single screen (7×7).
Find out more:
Improvements to meeting notes (GCC, GCC High, and DoD)
Meeting notes now support 100 users by default. Also, if anyone joins your meeting past after it is scheduled and, doesn't have access to notes, they can now request access from the note's owner in one click.
Find out more:
---
Power Apps
Mobile Offline for Power Apps
Makers and administrators can now configure apps to be available offline on a user's device, and users can continue to complete their tasks against the local cache on their phone even with intermittent or no network connectivity. When the network is re-established, the users' changes are seamlessly synchronized back to the cloud.
Find out more:
Custom API (preview)
Custom API is a new code-first approach that extends the concept of Custom Actions to provide capabilities that will make life easier for developers.
With Custom API, there is no workflow and some of the limitations of Custom Actions can be avoided providing new capabilities for developers. Instead, Custom APIs require that the developer create a plug-in which will provide the main operation for the message.
Find out more:
Power Apps portals simplified identity provider configuration
Now generally available, Microsoft are introducing a simplified experience to create and manage authentication settings and identity provider configuration. The experience aims to provide better discovery of supported providers, in-app guidance for makers / administrators to do this quickly and reduce common configuration errors.
Find out more:
Relevance Search API
Relevance Search API, now available for Common Data Service (CDS) environments provides access to exciting new search capabilities in environments with Relevance Search enabled. Three types of search experiences can be powered by the API, including; search results page, Suggestions-as-you-type and autocomplete.
Find out more:
App usage analytics in ISV Studio
Now in public preview, app usage analytics now allows ISV to monitor your published applications. With the release of this feature, in addition to seeing the total number of installations a user will now be able to see the Monthly, Weekly and Daily active usage of their app.
Find out more:
---
Power Automate
Power Automate Desktop update – October 2020
The Power Automate Desktop October 2020 update is out now and includes several new productivity enhancements.
Find out more:
RPA Playbook for SAP GUI Automation with Power Automate
The Power Automate team have released the first enterprise automation playbook for Microsoft Power Automate – SAP GUI Automation.
The playbook show you how to apply simple to advanced, no-code to pro-code SAP automation techniques, leveraging Power Automate, UI flows and the recently announced public preview of Power Automate Desktop.
Find out more:
New AI Builder capabilities generally available
Microsoft have announced several AI Builder preview model types are now generally available. These include: explicitly tag fields in form processing, text translation, predict a number, realtime prediction, receipt processing (preview) plus many more.
Find out more:
Nine new connectors in Power Automate
Nine brand new connectors were released for Power Automate through September 2020, taking the total number of connectors to 400! Here's what was released:
Find out more:
Action analytics in Power Automate
Action analytics is an update to flow analytics that will make it easier for users to understand how many actions your flow is executing every day.
For flows with a lot of daily activity this feature helps users understand how many actions are running each day.
Find out more:
Data Loss Prevention capabilities now generally available
A range of new Power Platform Data Loss Prevention (DLP) policy capabilities are now generally available, including; a new enhanced user interface in the Power Platform admin center for defining DLP policies, which additionally enables the ability to block connectors as well as user interface support for including HTTP Connectors in DLP policies.
Find out more:
---
Certified and Promoted reports and apps
With the rise of the need for standardized, authoritative data across organisations, the Power BI team recently released endorsements for datasets and dataflows. This has now been extended to provide similar endorsement capabilities for reports and apps.
Find out more:
Power BI Connector to Azure Databricks Public Preview
In September, the Power BI team announced the availability of an enhanced Connector to Azure Databricks in Power BI Desktop in public preview. Now the Azure Databricks connector has also been deployed to the Power BI service.
Azure Databricks is an Apache Spark-based analytics platform optimized for the Microsoft Azure cloud services platform. It can consume data at cloud scale from multiple data sources such as Azure Blob Storage, Azure Data Lake Storage, and Azure Cosmos DB. And thanks to the enhanced Azure Databricks connector, you can now deliver breakthrough insights at cloud scale in a self-service fashion in Power BI.
Find out more:
Power BI Report Server October 2020 Feature Summary
With October's Power BI report server feature summary, several new features have been released including the modern ribbon, slicer improvements, enhanced dataset metadata and more.
Find out more:
Enhanced compute engine now enabled by default
To improve the scale of dataflow analysis in Power BI, Microsoft are turning on the enhanced compute engine for all new dataflows by default in all new capacities provisioned. This premium dataflow feature allows you to:
Speed up refresh operations when computed entities or linked entities are involved
Enable DQ connectivity over dataflows leveraging the compute engine
Achieve improved performance in the transformation steps of dataflows when entities are cached within the compute engine
Find out more:
Power BI Publish to web updates
The Power BI team have announced several updates to the Power BI publish to web functionality including improved web dialog experiences, ability to add a placeholder image, a new data refresh experience plus many more.
Find out more:
The 'new look' of the Power BI service begins rolling out soon
All the improvements of the 'new look', from navigation updates to the simplified action bar for reports and dashboards, begins rolling out next week and will be generally available to all tenants and users by early November.
Find out more:
Personalize Visuals general availability
Personalize visuals are now generally available, this new feature can can empower your end-users to explore and personalize visuals all within the consumption view of a report. For example, your end-user can change a measure, a dimension, or the visualization itself.
Find out more:
Power BI October 2020 Feature Summary
Several updates are included in this months Power BI feature summary including new visuals, the introduction of canvas watermarks, new icons plus much more.
Find out more:
On-premises data gateway October 2020 update is now available
The October update for the On-premises data gateway (version 3000.63.6) is now available. Updates include OAuth Support for the gateway, Google BigQuery Connector on Gateway, Performance Monitoring On By Default plus many more.
Find out more:
---
Related
OneDrive widget for iPhone
ow, when you run iOS14 on your device, you can add a OneDrive widget to your iPhone home screen. The widget displays your photo memories "on this day" across previous years. 
Find out more:
Productivity Score
Microsoft Productivity Score can help measure and improve how your organisation uses Microsoft 365 by giving you visibility into how your organization works, insights to identify where you can make improvements, and actions you can take to update skills and systems so that everyone can do their best work.
Find out more:
Create Forms from the Office mobile app
You can now easily create, share, and analyze your forms, alongside your other Word, Excel, and PowerPoint files, all from the Office mobile app.
Forms creators can easily create and send out a form, and from the "Home" page of the app, quickly check to see the number of respondents and insights from the information collected. 
Find out more:
---