In this month's update we take an in-depth look at all the recently released features for all the products within Microsoft 365.
SharePoint – Ghosting drag & drop web parts, expiring guest access, Power BI results in search
Teams – Performance updates, large gallery view, new meeting pre-join experience, reverse number lookup, Teams phones updates, Teams Rooms updates, reflect extension, Lists in Teams, Whiteboard updates, Walkie Talkie, Teams – RealWear, custom praise badges, share share from chat policy
Teams (Education) – "Only Me" admin policy, SEL stickers, presenter mode in Whiteboard, Focus mode, Assignments grading history, SMART learning suite,
Teams (GCC, GCC-High, DoD) – Instant channel meetings GCC, custom apps & sideloading GCC, DLP for Teams in Gov Clouds
OneDrive – New widget for iOS, updates to comment notifications, mute comment notifications, Surface Duo app
Power Apps – Power BI as system dashboard, GitHub actions (preview), Power Platform in Teams, new solution import experience & environment variables
Power Automate – 9 new connectors, Power Automate Desktop, UI Flows August update, connection references
Power BI – On-prem data gateway Sept 20 update, new experiences for Teams, feature summary, deployment pipelines, smart narrative, Power BI HoloLens 2, 'new look' updates, Power Automate actions, paginated reports updates
Power Virtual Agents – PVA in Teams, health information compliant bots
Project Cortex – SharePoint Syntex
SharePoint
"Ghosting" drag & drop effect for web parts
When you are in page edit mode and you choose to move a web part from one portion of the page to another, you'll now see a ghosting effect of the web part you grabbed, as a reminder of what you're moving.
Find out more:
Manage default policy duration for expiring guest access
Rolling out now, admins will be able to create policies to revoke guest access to SharePoint sites and individual OneDrive's after a defined period of time. Site admins will also receive notifications via email of upcoming guest user access expirations.
NOTE: this policy does not apply to guests who already have access to sites, documents, and files before this setting is applied. After a guest loses access to a site, any user with the ability to share content externally can re-invite the guest to each document or item as needed.
Find out more:
Power BI results in Microsoft Search
Microsoft Search in SharePoint and Office.com will now include results from Power BI. This means search results will show Power BI reports, dashboards, and workspaces, which can be important content to be discovered.
NOTE: Microsoft Search administrators can disable this feature in Microsoft Search settings through the Microsoft 365 admin center.
Find out more:
---
Teams
Updates to Teams performance
Microsoft have increased their efforts to improve the performance of Teams to allow it to continue to scale across devices and differing levels of internet connectivity. Here's a summary of the updates:
Offline support in desktop
Improved desktop launch time
Video rendering optimizations in desktop
Battery life optimizations in iOS
Low bandwidth optimizations for Android
Find out more:
Large gallery view – see up to 49 participants
This feature was rolled out as part of the new multi-window experience. In order to take advantage of this new view, users will need to turn on the new multi-window meeting experience.
Find out more:
New Teams meeting pre-join experience
Microsoft have improved the pre-join meeting experience for Teams meetings including easier discovery of audio, video, and device configurations before joining a meeting.
Find out more:
Reverse Number Lookup Enhancements
As part of the latest enhancements to reverse number lookup in Teams, the caller name will also show up in your activity feed, call history, and voicemail.
Find out more:
New features for Microsoft Teams phones
Microsoft have announced a series of new feature updates to Microsoft Teams phones that are available now in version 1449/1.0.94.2020071702:
Redesigned Home Screen: A new, simple view providing up-to-date information about your calling and meeting activity, reminders of your current and upcoming meetings, and access to quick actions like replying to missed calls and listening to voicemail.
Customize Quick Access to Apps: Set the default views for your phone by pinning and re-ordering your apps suited to your needs.
Auto accept incoming meeting and call requests: Teams phones can now be provisioned to automatically accept incoming meetings nudges and calls, allowing instant, hands free connection to incoming join requests.
Dedicated Teams button: new and upcoming Teams phones will have a dedicated Teams button to quickly launch Teams app on the device home screen.
Find out more:
Teams Rooms updates
Updates for both the Windows and Android versions of the Teams Rooms app, including:
Microsoft Teams Rooms on Windows, app version 4.6.20.0 now available
Live captions: Meeting participants joining from a Teams Room can now view live captions turned in a Teams meeting. In-room participants can also turn live captions on or off from the center of room console. Captions will appear at the bottom of the meeting experience shown on the front of room display.
3×3 gallery view: Meeting participants can now view up to nine participants in the meeting gallery view, shown on the front of room display.
Direct Guest Join with Zoom Rooms (Preview): Teams Rooms and Zoom Room devices can now connect to each other's meeting services via embedded web technologies. This will reduce the friction you experience when trying to join calls from external partners or clients who may not be using the same meeting service.
Microsoft Teams Rooms on Android, app version 1.0.94.2020062501 now available
Pin video: Now you can pin the video stream of a meeting participant from the Teams Rooms device, keeping the pinned user's video visible in the gallery. This "pinned view" is only applied to the gallery view in the meeting room and not to other meeting participant's views.
Support for structured meeting role and roster controls: Allows meeting organizers to assign meeting roles (presenter and attendee) from the Teams Rooms experience, enabling participants to take specific actions associated with those roles (e.g. mute participants, present content, etc.)
Find out more:
Reflect messaging extension
Managers, leaders or teachers now have an easy way to check in with how their team or students are feeling — either in general, or about a specific topic like work-life balance, the status of a project, current events, or a change within the organization.
IT or Teams admins can install the Reflect extension from GitHub and make it available to their users in the message extension menu.
Find out more:
Microsoft Lists in Teams
Last month Microsoft announced the general availability of Microsoft Lists. Now, Lists can be created directly in Teams as a channel tab.
Find out more:
Microsoft Whiteboard improvements
Microsoft Whiteboard is integrated within every Teams meeting, enabling meeting participants to join in. Recent updates include the ability to add sticky notes and text to a canvas, making it easier to contribute if you're using a device without a digital pen, and added the ability to move and re-order objects on the canvas through a simple drag and drop gesture.
Find out more:
Walkie Talkie for Android
Walkie Talkie is a push-to-talk experience that enables instant and secure voice communication over the cloud, turning your personal- or company-owned Android smartphones and tablets into a walkie-talkie. It reduces the number of devices you need to have while providing clear communication free of radio interference, static and no distance limitations in range.
Find out more:
Teams and RealWear integration
Integrations between Teams and RealWear allow field workers to remain 100% hands-free using a voice-controlled user interface while maintaining situational awareness in loud and hazardous environments.
Find out more:
Customizable Praise Badges
You can now can create customized Praise badges to express their culture and values when recognizing successes and fostering comradery. Praise badges can help improve workplace culture and job satisfaction, from corporate headquarters to Firstline Workers.
Find out more:
Screen share from chat policy governance
Screen share from chat allows you to immediately start sharing your screen in a one-to-one or group chat. This entry point was previously governed by the AllowPrivateCalling policy. If this policy was disabled, users weren't able to screen share from chat.
This will now be governed by the ScreenSharingMode policy.
Find out more:
Teams (Education)
"Only Me" Admin Policy for all Organizer Meeting Options
IT Admins can apply a policy that defaults "Only Me" to allow only educators (or the meeting organizer) to enter the meeting and keep students in the lobby until the educator admits them.
Find out more:
Social and Emotional Learning (SEL) connections in the digital classroom
Now with Social and Emotional Learning badges in Praise and new SEL sticker pack for OneNote, educators can encourage the development of these critical life skills while in a remote or hybrid learning environment.
NOTE: The SEL sticker pack for OneNote is available now, SEL badges in Praise coming soon.
Find out more:
"Presenter" mode in Whiteboard
Educators now have the option to choose a presenter mode in Microsoft Whiteboard in Teams. This allows for more flexibility to either present the digital whiteboard with Read-Only access for students, or to allow (or adjust) student access when it's time to have the whole class collaborate.
Find out more:
Focus mode
Now students will be able to hone-in on the materials being presented in their online class. When a teacher is sharing their screen, students can choose "Focus Mode" from the "…" menu so that only the content shows without any distracting videos.
Find out more:
Assignments Grading History
See all of the submission and return history of Assignments in Teams, all in one place. Easily track Assignments over time.
Find out more:
SMART Learning Suite
The SMART Learning Suite app gives teachers the power to create, edit, deliver, manage and share interactive lessons directly within Microsoft Teams, enhancing instruction from the platform and workflows they already use.
Find out more:
Teams (GCC, GCC-High & DoD)
New experience for launching instant channel meetings for GCC
Meet Now buttons in Teams channels have a new home. You will soon find them in the Channel header where you can easily find and launch the meeting.
Find out more:
Custom Apps and Sideloading in GCC
Sideloading and custom (line-of-business) apps are now available in GCC. GCC tenant administrators can decide whether to upload a custom app to their tenant environment and publish it to their tenant app catalog.
Find out more:
Teams Data loss prevention for Government Clouds
Data loss prevention (DLP) capabilities in Microsoft 365 government clouds will be extended to include Microsoft Teams chat and channel messages, including private channel messages.
If your organization has DLP, you can now define policies that prevent people from sharing sensitive information in a Microsoft Teams channel or chat session.
Find out more:
---
OneDrive
New OneDrive widget & home screen for iOS
A new home screen for the OneDrive iOS launched this month. The new home experience will help you quickly pick up where you left off on recent and offline files and easily re-discover memories from the past.
Find out more:
Comment notification updates
Users who create or upload Word, Excel, PowerPoint or any other type of file to OneDrive or SharePoint will now get email notifications whenever someone else leaves a comment on their file.
Find out more:
Mute comment notifications
Microsoft are enabling users to be able to turn off comment notifications for individual files in the details pane. This feature is also incorporated in sharing emails as an actionable message action.
Find out more:
OneDrive app for Surface Duo
With the Surface Duo now generally available the OneDrive app is now also available for the device. Surface Duo and OneDrive enhances multitasking with drag-and-drop functionality as well as the built-in PDF editor for book-like reading and mark-up experience.
Find out more:
---
Power Apps
Power BI embedded as system dashboard in model-driven apps (preview)
Power BI embedded as a system dashboard in the Power Apps model-driven app is now in public preview. This enables adding a reference to an online Power BI report or dashboard as a system dashboard.
Find out more:
Power Platform GitHub actions now in preview
Now in public preview, GitHub actions will allow developers to create their own software development lifecycle (SDLC) workflows when building Apps, Flows, Virtual agents, connectors and other assets backed by the Common Data Service on the Power platform.
Find out more:
Customize Teams with built-in Power Platform capabilities (preview)
Teams customers can make and use custom tabs, personal apps, chat bots, and more using a powerful onboard data platform and approachable low-code tools from the Power Platform.
Find out more:
New solution import experience with connections and environment variables
The Power Apps team have announced a broad set of new ALM capabilities for importing solutions. In addition to these modern new interfaces, now you can establish connections as well as set values for environment variables while importing solutions.
Environment variables are now generally available.
Find out more:
---
Power Automate
Nine new connectors released in September 2020
Last month, Power Automate saw the introduction of nine brand new connectors to the connector line-up, taking the total to 400 out of the box connectors!
Find out more:
Power Automate Desktop
Announced at Microsoft Ignite 2020 but now in preview, Power Automate Desktop enables coders and non-coders alike to automate processes and tasks across desktop and web applications, bringing the value of Softomotive capabilities directly into Microsoft Power Automate.
Find out more:
UI Flows August 2020 update
Several updates are included in the August 2020 release of UI Flows, including:
Cancel UI flow runs that are in progress
Add and edit Image Recognition actions that are part of a Remote Desktop or Citrix recording
Native support for recording actions and data from SAP
Do Until feature to have more control over how UI flows execute
Find out more:
Connection References
Now in public preview, Connection References is a new concept that makes it easier for customers to maintain a level of abstraction between flows and the connections used by them. Connection references are particularly useful when moving flows across environments, updating flow definitions, automating deployment pipelines for secure, and healthy Application Lifecycle Management.
Find out more:
---
Power BI
In Power BI: Power BI Report Server Feature Summary, reports in Teams tabs, reports from SharePoint lists, deployment pipelines API, Power BI in Jupyter notebooks, on-premises data gateway, add/ edit data sources, May feature summary, small multiples, template apps one-click update, new sharing exp, backup/ restore support, goals,
Power BI Report Server May 2021 Feature Summary
This month's new version of Power BI Report Server is out now with lots of new enhancements, including a new field list, new and improved shape options, and several visual formatting features.
Find out more: Power BI Report Server May 2021 Feature Summary
Power BI reports in Microsoft Teams tabs
The Power BI team are making it easier to find Power BI tabs you've used in Team channels. An update to the home experience in the Power BI app for Microsoft Teams will allow users to see a new "In Teams" pivot on Power BI home.
Find out more: View all the Power BI tabs you use in Microsoft Teams
Quickly create reports from SharePoint lists
The Power BI team have announced integration within SharePoint lists. This experience empowers SharePoint list and Microsoft List users to easily explore their list data with just a few clicks. 
Find out more: Quickly create reports from SharePoint lists
Deployment pipelines API
The deployment pipelines tool helps BI teams release content in a fast pace and with higher quality. The Power BI team are releasing a new set of REST APIs that allow developers to automate the deployment of content within an existing deployment pipeline. This includes all the types of deployment that exists today, including selective deployment and deploying all the content in a workspace.
Find out more: Deployment pipelines – automation and Azure DevOps/GitHub integration
Power BI in Jupyter notebooks
You can now tell compelling data stories with Power BI in Jupyter notebooks. Get your Power BI analytics in a Jupyter notebook with the new powerbiclient Python package.
The new package lets you embed Power BI reports in Jupyter notebooks easily. You'll be able to export data from visuals in a Power BI report to the Jupyter notebook for in-depth data exploration. You can also filter the report for quick analysis or use bookmarks to apply a saved view.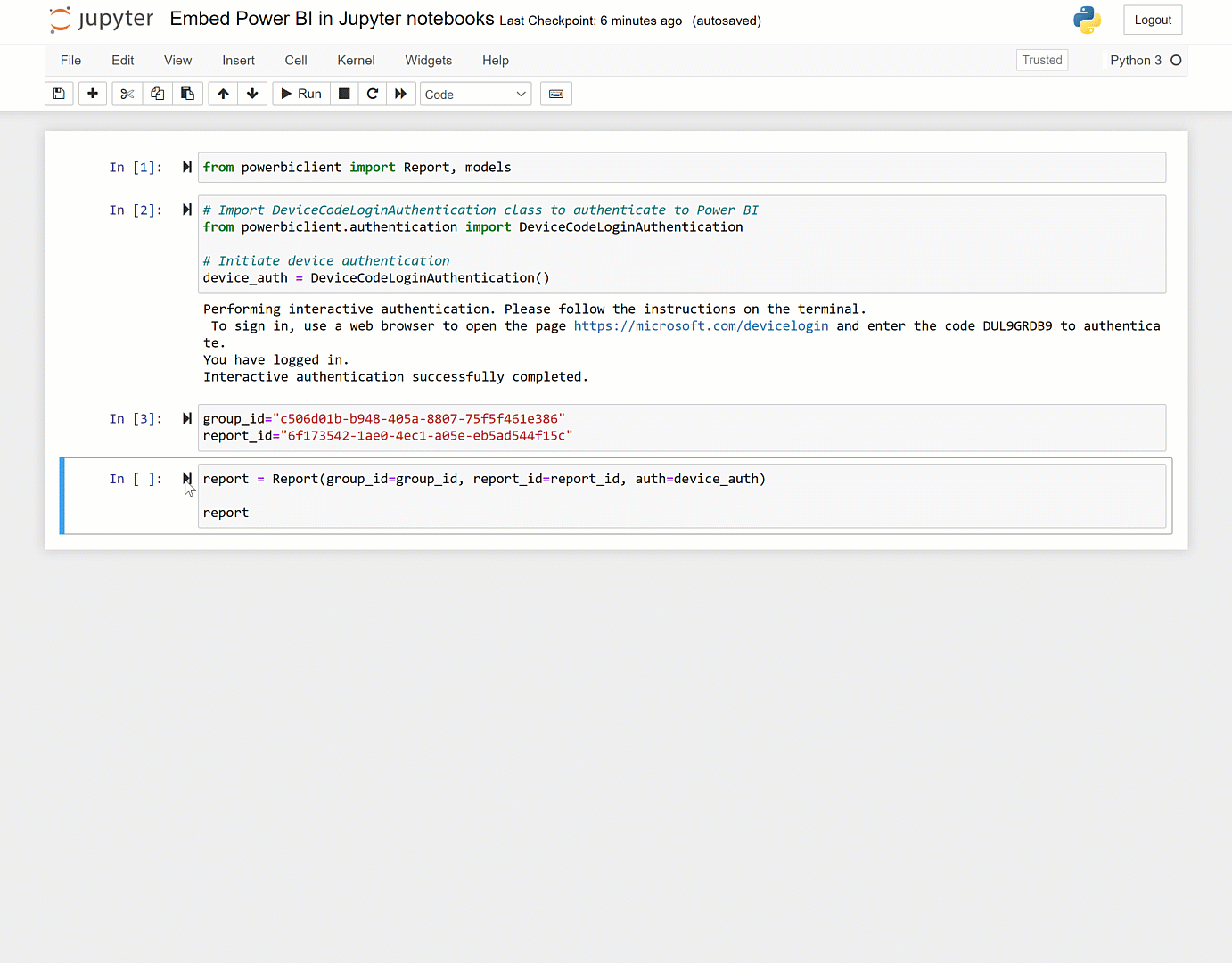 Find out more: Announcing Power BI in Jupyter notebooks
On-premises data gateway May 2021 update is now available
The Power BI team have announced that we have just released the May update for the On-premises data gateway (version 3000.82.6).
Find out more: On-premises data gateway May 2021 update is now available
Add and Edit Power BI data sources on Power Platform Admin Center
The Power BI team have announced two enhancements to gateway management operations on Power Platform Admin center. We have added the new features listed below:
Edit data source
Add data source
Find out more: Add and Edit Power BI data sources on Power Platform Admin Center
Power BI May 2021 Feature Summary
This months Power BI feature summary is out now including a ton of updates for reporting, analytics, modeling and more!
Find out more: Power BI May 2021 Feature Summary
Small Multiples (Preview) – Roadmap Updates
The small multiples preview feature has been turned on by default in Power BI Desktop. The updated version of small multiples includes many updates since the feature was first released in preview back in December 2020.
Find out more: Small Multiples (Preview) – Roadmap Updates
Announcing template apps one-click update
Template apps are marketplace offers which provide Power BI Pro or Premium users with out-of-the-box reports for common data sources. Now, when you install a template app update, you can choose to update the organizational app as well, enabling you to update the app, navigate to it directly, and continue your work!
Find out more: Announcing template apps one-click update
New sharing experience
The Power BI team have announced a new sharing experience that allows sharing reports via links. Previously in the old experience, we supported sharing reports by granting direct access. For the new experience, reports can be shared via links in addition to direct access sharing.
Find out more: Announcing the new sharing experience
Support for backup and restore of Power BI datasets
Now in public preview, Backup and Restore for datasets in Power BI Premium and Premium per User (PPU) lets you use SQL Server Management Studio (SSMS), Analysis Services cmdlets for PowerShell, and other tools to perform backup and restore operations in Power BI via XMLA endpoints in much the same way as you would for tabular models in Azure Analysis Services (Azure AS).
Find out more: Backup and restore datasets with Power BI Premium (preview)
Query Plan Visual for Power Query Online
Now in public preview, Query Plan visual will allow you to understand what's happening under the hood of your query with more details than the Step Folding indicator. While Step Folding indicators provide a "check engine light" for every Power Query user, the new Query Plan provides a much more detailed view for advanced users. Similar to how SQL Server's "" capability can let you see the optimized form of the Query Plan in Power Query Online will let you see how the Mashup Engine will process your query.
Find out more: Query Plan Visual for Power Query Online
Goals in Power BI
Now in public preview, Goals in Power BI Premium is a data-driven, collaborative, and adaptable way to measure key business metrics and goals built directly on top of Power BI. Goals enables teams to easily curate business metrics that matter most and aggregate them in a unified view.
Find out more: Introducing Goals in Power BI
On-premises data gateway September 2020 update
The September 2020 update for the On-premises data gateway (version 3000.58.6) includes updates for the Mashup Engine, .Net Framework, dprecation for Kerberos SSO and more.
Find out more:
New Power BI experiences in Microsoft Teams
The Power BI team have announced new Power BI integrations for Microsoft Teams to make it easier to discover and use data within your organization, including:
New Power BI App for Teams that helps you view and work with Power BI content
New Teams Search experience to find and open Power BI content
New Teams Chat experiences to quickly find and share Power BI content
Find out more:
Power BI September 2020 Feature Summary
Several updates in this month's feature summary including updates for analytics, reporting, mobile, service, modeling, data connectivity plus many more!
Find out more:
Deployment pipelines general availability
Deployment pipelines is now generally available, with some new additional features: incremental refresh support and the creation of pipelines from the workspace page.
Find out more:
Smart narrative
Now in preview, smart narrative visualizations help you quickly summarize visuals and reports by providing relevant out-of-the-box insights that are customizable.
Using this feature creators can add narratives to their report to address key takeaways, point out trends, edit the language, and format it to fit a specific audience.
Find out more:
Power BI App for mixed reality now available for HoloLens 2
The Power BI app for mixed reality is now available, running on HoloLens 2 it is capable of:
A unique visual display system which makes holograms even more vibrant and realistic.
Improved performance.
Completely refreshed ways of interacting with holograms.
Find out more:
'New look' experience updates
More changes are being made to the 'new look' of the Power BI service, including navigation updates to give you more space to work with your content, provided options for report authors to configure their page navigation, updated the action bar for quicker access to common actions, and more.
Find out more:
Power Automate actions for Power BI exports
Two new actions are available for the Power BI connector in Power Automate. Now, you may easily leverage the Power BI export API for either Power BI reports or paginated reports in your Power Automate workflows.
These new actions make it easy for anyone to quickly export their Power BI content in a variety of supported formats and scenarios.
Find out more:
Power BI Paginated Reports August 2020 Updates
Several updates are being rolled out for paginated reports in Power BI, including new authentication type support for Azure SQL DB and Azure Synapse, Common Data Service data source support, improved multi-value parameters support for DAX and more.
Find out more:
---
Power Virtual Agents
Power Virtual Agents within Microsoft Teams (public preview)
The Power Virtual Agents team have announced the Public Preview of deep integration between Power Virtual Agents and Microsoft Teams. Users can easily create their own digital assistants within Teams and make them available to their colleagues to chat with.
And better yet, this functionality is included with your existing Teams licenses and the bot creation experience is embedded within Teams itself – empowering all of your employees to easily build and share bots within Teams.
Find out more:
Power Virtual Agents is HIPAA, SOC, ISO, and CSA compliant
Power Virtual Agents is now covered under HIPAA (Health Insurance Portability and Accountability Act) BAA (Business Associate Agreement) and is a Core Online Service in the Microsoft Online Services Terms (OST).
Power Virtual Agents also acquired System and Organization Controls (SOC), International Organization for Standardization (ISO), and Cloud Security Alliance (CSA) certifications which are required by enterprise customers.
Find out more:
---
Project Cortex
SharePoint Syntex – General Availability
The first product from Project Cortex – SharePoint Syntex is now generally available. SharePoint Syntex uses advanced AI and machine teaching to amplify human expertise, automate content processing, and transform content into knowledge.
Find out more:
---
Resources